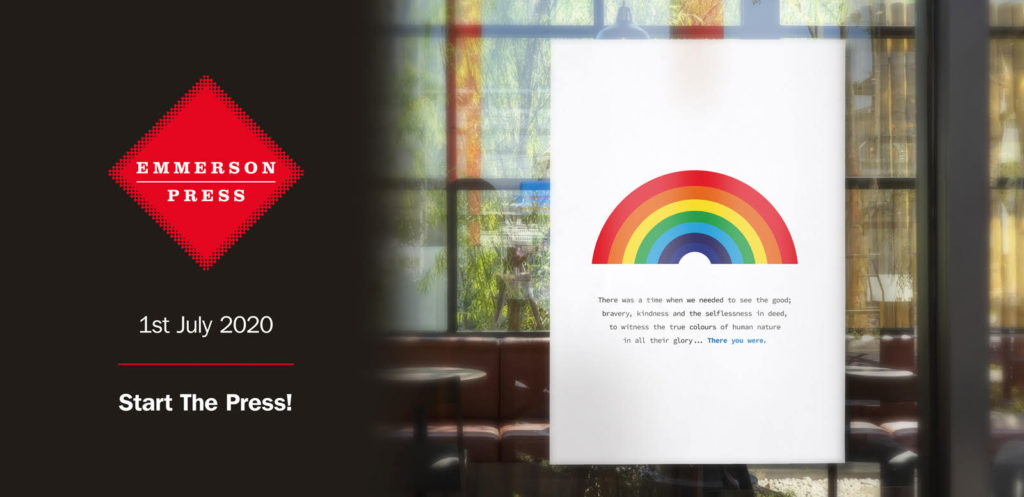 It's been an unusual (to say the least) time hasn't it?
The team have tried to make the most of our down time – enjoyed the challenges of home schooling with our kids, had some nice long dog walks (or just walks for the nondog owners!) and we've helped out in our local communities. It has been heartening to see the good in others rise to the top in a time of need.
As a company we've done the best we can to keep our people safe. Like many businesses, we've had to make changes and some hard decisions to answer the challenges. Along the way though we've helped out where we can in lots of ways, including donating print for lots of COVID related help organisations – produced by the skeleton team we put in place to support our clients with their booked in projects and needs. We even produced a lovely poster (shown above) which we got into some local coffee shops, pubs and newsagents for people to take home. I keep seeing them around which has been humbling – to know the words and the prints have found their way into people's lives – it really does seem the little things mean the most.
Workwise, from being in a really good place with a full order book back in mid-March, to pretty much overnight 90% of the work postponed or cancelled. Which was hard. We did a few annual report projects and some commercial work in April, but very little in May which was the quietest month so far. In June we've printed a fair bit of retail work – DM for stores re-opening, some newsletters and a COVID safety catalogue! Whilst there have been days where we have not opened up, we have taken it as an 'in on demand' scenario. I'm very happy to say though that as of now the press hall and factory will be open daily.
The safety and welfare of our team is still our number one priority and we have implemented new measures for safe working; we've had professional cleaners come in to HQ and do a deep clean with the whole factory being sanitised, we've implemented one way walk systems, installed many hand sanitise stations throughout the factory, as well as providing masks to all. 5 star PPE. We have a full time team in place and are trying to drum up as much business as possible. We really do want to start the presses and get back to normal. For you, for us and for the workforce we have. We want to hit the ground running, get our mojo back, be productive and produce the work we love to do. It's our pride and we like to work on that.
With the mention of pride, although I've never wanted to be a pushy sales guy… to get this kick started I need to be upfront and say please do let me know If you have a project we can work with you on. We believe those prepared and ready for the challenges now will be best placed to move forward.
Now, more than ever, we are seeking the support of our community. Hopefully, one thing these unprecedented times have taught us is that when our world is forcibly reduced, it is the small, local, businesses that care the most and are dependable in times of crisis. Long may this continue.
Also, just as important to us, how can we help you with your needs and challenges? We've learned more than ever the value of those around us when the going gets tough. We're loyal to our customers as our customers are to us. That means a great deal. We want to help if we can and how we can. Let us know what we can do to assist you.
John Emmerson
We have had the pleasure of recently printing this stunning A3 limited edition catalogue for ALYK Fashion, a New York…